Installation and Cleanup
Installation
Our crews understand they are working in your personal yard. They appreciate their opportunity to perform their craft for you. They take the time and care to assure your project is installed properly with an eye for detail.
The crew Foreman or the Designer will review with you the scope of the project before it begins to insure all questions and concerns you have are addressed. A customer should always feel free to ask questions while the project is being installed. We want to have you understand exactly what is being done and alter the installation if that is what you prefer.
 
Cleanup
This is an area we find very important, you should not have to clean-up after the project is accomplished. Dirt, dust, brush, and debris are often generated on all projects.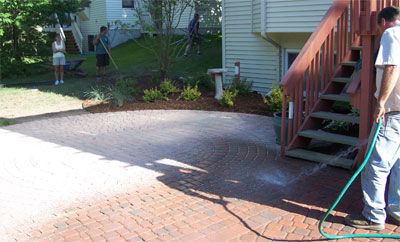 During installation we try to contain the disruption of you and your neighbor's lives. Debris is removed daily and the project is tidied at the end of each day. When the project is completed the entire work area is swept and washed as needed as well as lawn areas repaired.
Our ability to clean up our work area has gotten us almost as many compliments, as our projects, from clients to neighbors and passers by.