Choosing a Designer
Ideas
A good designer not only wants to hear what your thoughts and ideas are for your project, but also gives their ideas on what they see could be applied to better fill your needs.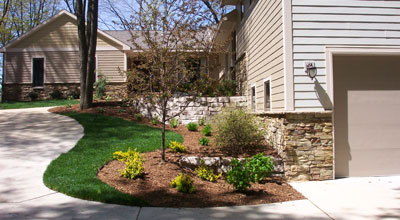 Examples
Ask to see photos of a designer's work. Each project is a reflection of the designer's artistic abilities and style. The different aspects of a project should mingle together.
Flows
Edging lines, plantings, gardens, patios, and walk-ways should draw a person in with its particular flow.
Perfect Fit
The best landscape designs are projects that look as though they are the perfect fit. Soil grades should have a natural looking flow. Features should look as though they are a part of the project not something just added to it. When talking to a designer it should not take long to see if they have the skills and passion for their craft, along with the vision for your project.